About the SA / BBS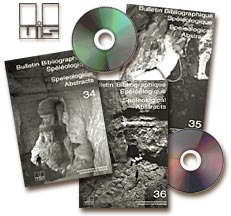 Speleological Abstracts (SA/BBS) is an annual review of the world´s speleological literature. About 4000 titles are included every year, most of them with a short abstract in English, French or in another non-cyrillic International Union of Speleology language (UIS).
The titles are those which have been published or which were available between January and end of December of the year concerned; SA/BBS is planned to be published in the summer of the following year.The reviewed titles are numbered in increasing order and are classified by subject using 8 chapters headings and numerous sub-headings. The titles in each sub-heading are listed in alphabetical author order.
Classification by subject:
Karstology and Geospeleology
Regional speleology
Biospeleology
Anthropospeleology
Palaeontospeleology
Applied speleology
Technical speleology
Documentary speleology
Titles which have a geographical connection are listed in chap. 2 (Regional Speleology). Chap. 1 and 3 to 8 include the titles without any geographical connection and/or with specialized contents, e. g. biospeleology, technical speleology etc.
In order to facilitate your bibliographical researches, every issue of SA/BBS includes the following indexes:
An alphabetical index by authors:
It allows you to find the titles published by a given author.
A geographical index:
It allows you to find quickly a given country; you can also have direct access to chap. 2 and see where you are with the aid of the headlines.
A lot of cross indexes:
At the end of every sub-chapter. They allow you to find all the other titles concerning a given matter or a given country (nation) placed in a different sub-chapter. In order to limit your bibliographical research, you may narrow the search in the cross index to the title numbers which correspond to a given chapter.
A list of the reviewed publications and periodicals:
You have found titles which are of interest to you and you wish to know them in greater detail : consult your nearest speleological library.